Sustainable Meetings & Events in Los Angeles
Supporting sustainable and responsible tourism for your LA meeting or convention
Whether creating a social impact while meeting or reducing the environmental impacts from meeting, Los Angeles accommodates.
Our team will help you every step of the way.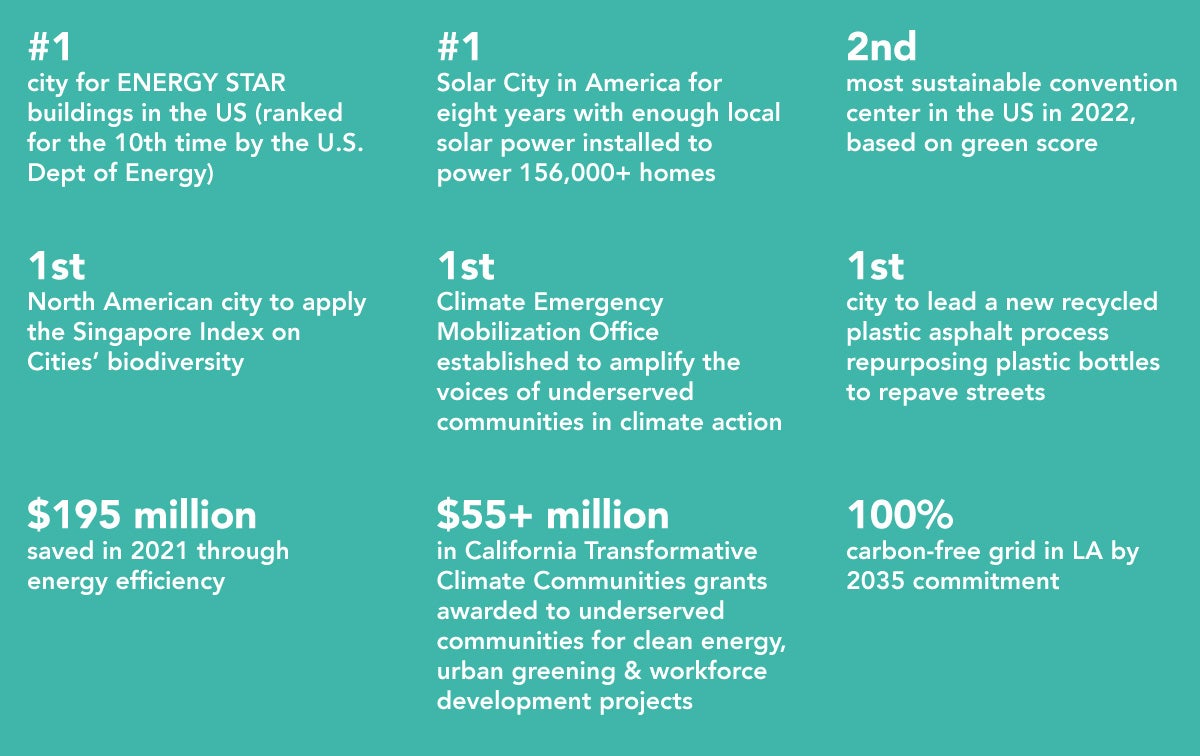 "
"
Let's make sure it's Angelenos who are creating our greener future. A future that's healthier; a future that's cooler because we are doing our part on climate change and we're planting trees and expanding the green canopy.
- Mayor Karen Bass
LA's Green New Deal Plan
A clean energy future has begun. As you advocate and plan for more conscientious meetings, you can look at ways to utilize these Green New Deal initiatives, plans and partners for your plans.

Eco-Friendly & Accessible Transportation
Whether walking, biking, electric carsharing, or taking public transit, attendees can efficiently and responsibly get around LA.
The Los Angeles Department of Transportation (LADOT) launched an $18 million program, Universal Basic Mobility, to provide more affordable, accessible and sustainable public transit options in South LA.
In the Works: LADOT's Universal Basic Mobility
Free/low-cost transportation opportunities include:
Electric carsharing
Charging facilities
On-demand shuttles
E-bikes
Los Angeles Convention Center
A Model for Sustainability
Green Initiatives: Minimizing Environmental Impacts
Energy conservation & renewable energy
Water conservation
Recycling & waste diversion
Sustainable product purchasing
Education & communication
Alternative transportation
Largest solar array on a municipally owned convention center in the U.S.
Fill Up Here: The Convention Center's Plastic Reduction
Ban on single-use plastic bottles
Aluminum bottle distributions
21 on-site hydration stations 
Saving hundreds of thousands of plastic bottles at the facility
LA's Eco-Friendly & Green Seal™-Certified Hotels
Plan your attendees' stays at one of LA's green-leading hotels – many earning Green Seal™ and LEED Certification with energy-efficient lighting and HVAC systems, water-saving fixtures and recycling programs.
Near the Convention Center
JW MARRIOTT HOTEL LOS ANGELES L.A. LIVE
THE RITZ-CARLTON, LOS ANGELES
THE WESTIN BONAVENTURE HOTEL & SUITES
SHERATON GRAND LOS ANGELES
At or Around LAX
HILTON LOS ANGELES AIRPORT
THE WESTIN LOS ANGELES AIRPORT
SHERATON GATEWAY LOS ANGELES HOTEL
HYATT REGENCY LOS ANGELES INTERNATIONAL AIRPORT
Tips for Meeting Green In LA
Transportation Tips
Promote mass transportation to reduce emissions by choosing a central location for your meeting.
Consider hotels walkable from where you are meeting or near the Metro Station.
Plan for EV transportation to and from your event if possible.
Ask about hotels that offer complimentary LAX shuttle services.
Many of LA's hotels are pedestrian-friendly; however, advocate carpooling if attendees want to venture out to other areas of the city.
Sustainable F&B
Connect with vendors and purchasers who deliver organic, local, fair trade, shade-grown coffee and other sustainable products and ingredients.
Buy and serve items such as salt, pepper, sugar, cream and other condiments in bulk to reduce packaging waste and confirm with vendors and purchasers that packaging is recyclable or compostable.
Make every effort to provide non-disposable cups, plates and silverware.
Serve light refreshments such as finger foods to reduce the use of utensils, or consider a buffet-style meal instead of a sit-down affair to minimize usage of serviceware.
Implement a pre-event meal signup system to reduce leftovers.
Recycling Tips
Determine who will be hauling, composting, recycling and/or throwing away materials after the event, and coordinate recycling procedures accordingly.
Ensure properly labeled recycling bins are available for recycling and composting, and strategically place them near trash receptacles.
Regularly monitor the waste stations to minimize cross-contamination and consistently remind attendees to recycle.
Research donation opportunities for reusable materials and return borrowed items such as binders and name badge holders.
"
"
Sustainable tourism is tourism that takes full account of its current and future environmental, social and economic impacts. It addresses the needs of visitors, the environment, host communities and the industry.
- The World Tourism Organization (UNWTO)
Programs Making Social & Cultural Impacts
From ESG (Environmental, Social and Governance) to CSR (Corporate Social Responsibility), a company's or organization's goals matter when meeting.
The team at MeetLA can help connect you with the different opportunities that involve your group in making an impact while you meet – whether it's environmentally, socially or culturally
Green Spaces & Wellness-Minded Group Offerings
An intrinsic part of sustainability is nature – preserving it for the future and enjoying it in the present. Los Angeles is surrounded by beautiful green spaces, shoreline, trails, gardens and more for attendees to enjoy.
Impactful Meetings Are Thoughtful Ones
As the official DMO/CVB for the City of Los Angeles, LA Tourism's priority is to make it easier and more accessible for you and your attendees to discover what's possible in Los Angeles – and help make a difference while you're experiencing it.