Now Playing: Downtown Developments for Your LA Meeting
As one of the most connected, cultural and creative districts in the city, Downtown LA (DTLA) is experiencing the most significant development boom in nearly a century.
LA's boundless energy and relentless spirit are found everywhere – from new and adaptive hotels to it-list attractions – and in everything – from innovative dining experiences to entertainment.
Your captive audience is waiting. Plan your DTLA meeting.
Transportation | Properties | Experiences | Attractions

DOWNTOWN TRANSPORTATION ⎸ REGIONAL CONNECTOR
Metro's Regional Connector is a $1.8 billion, 1.9-mile light rail subway below Downtown LA. The new connection means faster and fewer transfers and provides attendees a seamless journey through the DTLA core.
LAX TRANSFORMATIONS ⎸ THE AUTOMATED PEOPLE MOVER (2023)
Attendees coming to DTLA through the skies will experience the significant transformations happening at the Los Angeles International Airport (LAX). 
As part of the $14 billion modernization program, LAX's major updates include renovations to the terminals and the arrival of the long-awaited Automated People Mover – the monorail that will connect all terminals of the airport to public transportation and allow for greater ease of travel to and from the rest of the city.
DTLA HOTELS ⎸ BRAND NEW & ON THE WAY
Adding to the 2,100 new rooms that arrived Downtown in 2021 is an additional 727 guest rooms joining the convention campus by the end of 2022. 
These Downtown hotels offer an eclectic choice in accommodations and surround your attendees with unexpected and true-to-LA touches. 
Designed as home bases for city exploration, DTLA's newest hotels are places to meet, rest and get to know LA, exploring the city's playful personality, unfiltered experiences and vast entertainment nearby.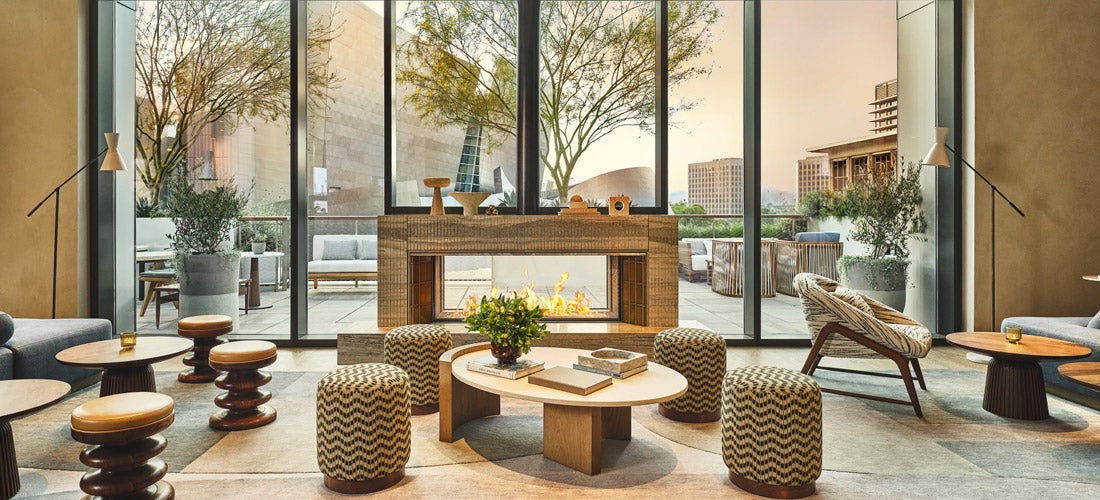 CONRAD LOS ANGELES
Frank Gehry's newest neighborhood landmark is Downtown's brand-new centerpiece. Surrounded by DTLA's iconic art, theaters and music institutions, Conrad Los Angeles is the first West Coast location from Hilton's Conrad brand. Think luxurious rooftop receptions, spa sessions, upscale shopping and signature dining for your attendees.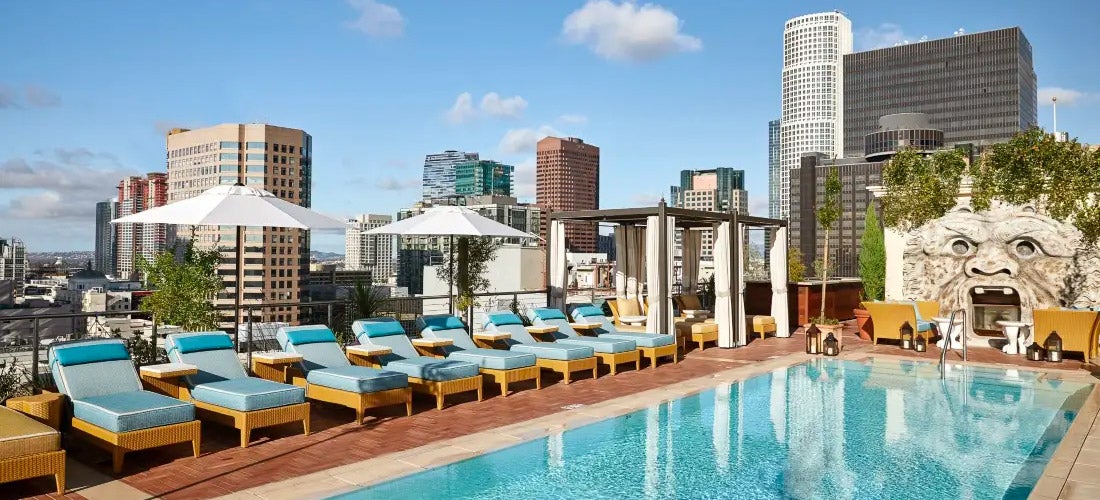 HOTEL PER LA
Formerly the site of the NoMad Hotel, the historic Bank of Italy building in Downtown has been reintroduced as Hotel Per La. The 12-story Italianate lifestyle hotel features 241 custom-furnished guest rooms, 10,000 square feet of event space and a new rooftop bar overlooking the city's iconic skyline. Think curated original artwork, terrazzo floored walk-in showers and pedestal bathtubs. A corner of Italy is waiting...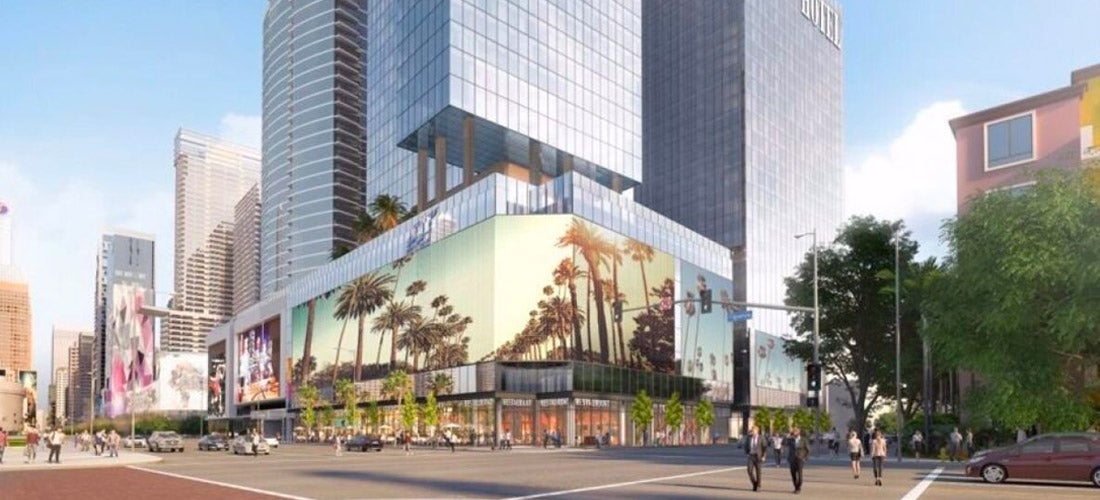 THE NEWEST DUO IN DTLA
Two unique properties under one roof
727 guestrooms: 380-room Moxy & 347-room AC Hotel
Directly across from the LA Convention Center and Crypto.com Arena
Opening late 2022
MOXY DOWNTOWN LOS ANGELES
The 380-room hotel features 13 restaurants, bars and clubs, four outdoor terraces and a pool deck overlooking the L.A. skyline. The property is equipped with flexible, tech-centric spaces for coworking, meeting and large social events. Just steps away from L.A. Live and the Los Angeles Convention Center, Moxy offers visitors a vibe-driven place to stay and experience some of the best in LA sports and entertainment.
AC HOTEL DOWNTOWN LOS ANGELES
With ample space and floor-to-ceiling windows, the 347-room hotel includes a light-filled bar and lounge, intimate library and rooftop garden featuring sweeping views of LA. Just an elevator ride away from all the fun at Moxy Downtown Los Angeles and a short walk from L.A. Live and the Los Angeles Convention Center, AC Hotel DTLA will offer a dynamic new place to stay Downtown.
Downtown LA Proper Hotel has been re-imagined from LA's historic Broadway Corridor landmark into a 147-room destination hotel –making Travel + Leisure's It List 2022.
Fairmont Century Plaza reopened in 2021 after a $2.5 billion renovation that modernized the iconic property and maintained touches of its history.
Coming 2023: Cambria Hotel Historic Core will sit two miles from LACC and offer 180 rooms, a full-service restaurant and a bar serving local craft beers.
NEW EXPERIENCES ⎸ THE GRAND LA
A destination within a destination, The Grand offers attendees the best of LA in the form of a landmark experience – brought to life by world-renowned architect, designer and visionary Frank Gehry.
The entire Downtown block – built for inclusive, multi-dimensional experiences – brings fresh dining, shopping and energy to the DTLA neighborhood. Attendees can start the day in one of the sun-filled cafés or network in the evening at the center bar. It is the only place in LA where attendees can encounter such a wide range of dining options on a single city block, and because of the location, it is at the hub of LA's public transit system.
$1.76 Billion Regional Connector subway located adjacent to The Grand
$281.6 Million streetcar with Grand Avenue extension
71,000+ SF of bars, cafés & chef-driven  dining
45 minutes between The Grand & USC, Hollywood, Santa Monica & Pasadena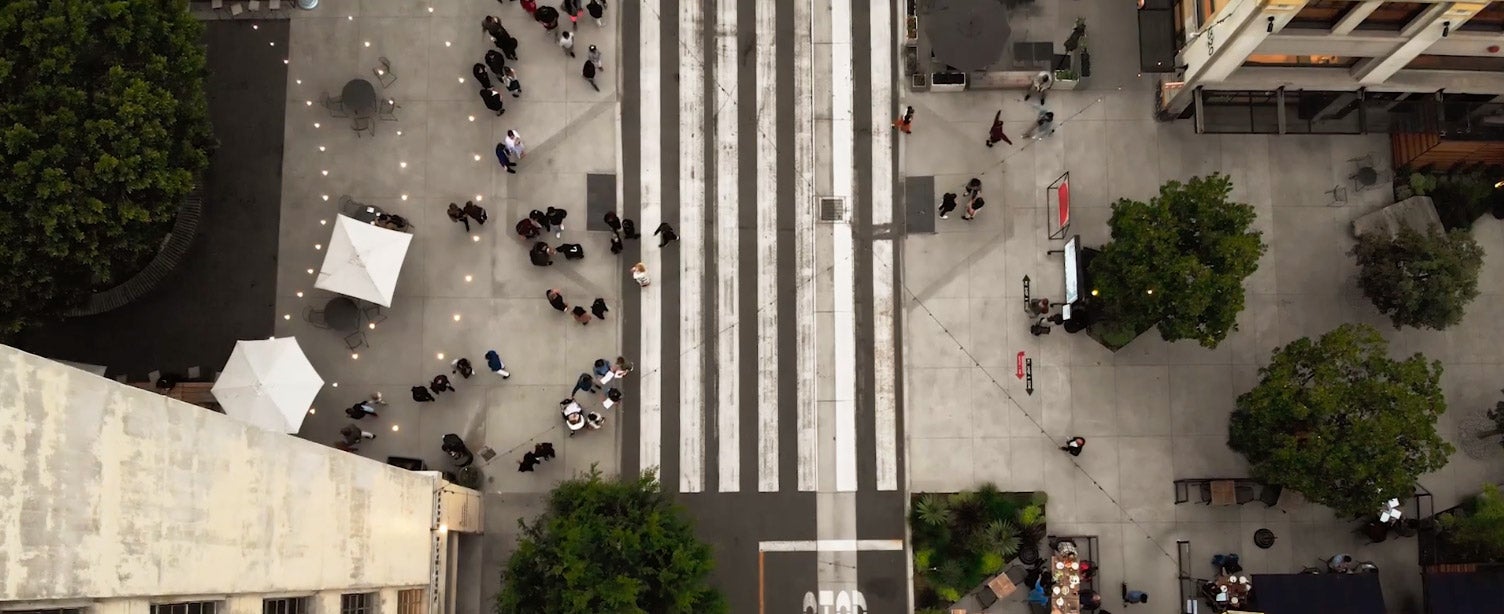 HOTSPOT DINING DESTINATIONS   ⎸  ROW DTLA
ROW DTLA is an electrifying district in Downtown with more than 35 retailers, restaurants, wellness concepts, creative office spaces and boutiques. Michelin-star-winning Jon Yao has a new outpost at his Taiwanese tasting-menu restaurant, Kato, and James Beard Award nominee Chris Bianco has a delicious new pizzeria.
EXTENDED STAYS ⎸ SUNNY SUNDAYS IN DTLA
For attendees arriving early or staying later, Sundays Downtown just got tastier.
Caldo Verde's Sunday Suppers
Caldo Verde, Downtown L.A. Proper Hotel's signature Portuguese-inspired restaurant helmed by James Beard Foundation Award-winning chef Suzanne Goin and restaurateur Caroline Styne, offers a new "Sunday Suppers" dinner series. The series will feature an inventive pre-fixe menu each week.
Patios & People Watching 
asterid by acclaimed chef Ray Garcia offers patio brunch every Sunday, serving dishes like chia pudding, bibimbap, oxtail and an all-new lineup of brunch cocktails. With views spanning Grand Avenue and The Music Center's Walt Disney Concert Hall, asterid is the perfect spot for an afternoon out.
Like Grandmother Used to Make
Chef Geter Atienza is one of Abernethy's emerging chefs. From now through December, Chef Geter is using his residency to highlight a Modern Filipino menu inspired by his upbringing in the Philippines with southern California spins on classic recipes from his grandmother.
ATTRACTIONS ⎸ BRAND NEW & ON THE WAY
ACADEMY MUSEUM OF MOTION PICTURES
In 2021, the much-anticipated Academy Museum of Motion Pictures opened its doors – fittingly, in the city synonymous with cinema. As the largest U.S. institution devoted to the arts, sciences and artists of moviemaking, the venue houses iconic film history. It boasts 50,000 square feet of gallery space, two theaters, dynamic indoor-outdoor event spaces and a rooftop with views of the Hollywood Hills – a breathtaking backdrop to any event.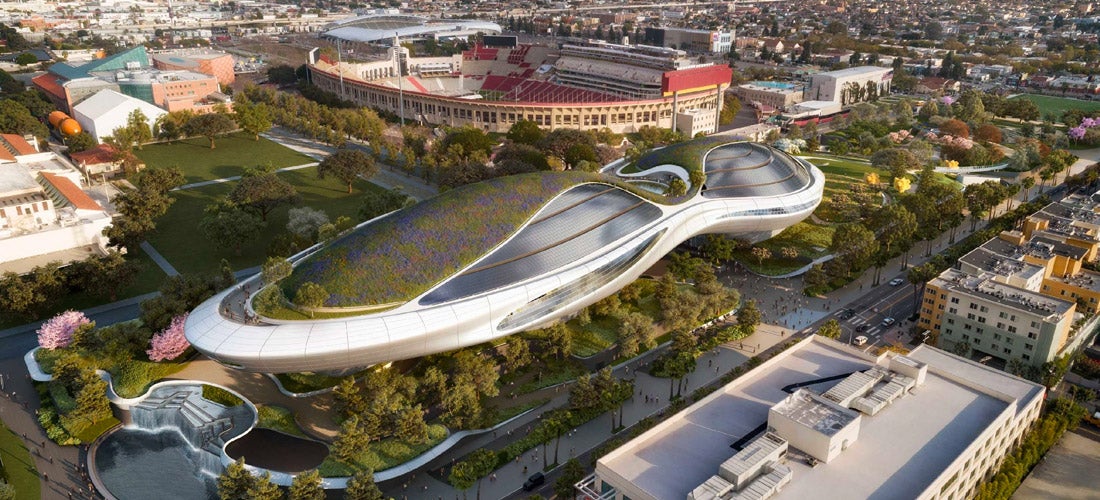 credit: Lucas Museum of Narrative Art
LUCAS MUSEUM OF NARRATIVE ART
In 2023, Exposition Park, home to the California Science Center, Banc of California Stadium and the Los Angeles Memorial Coliseum, will get a new addition in the Lucas Museum of Narrative Art. The large gallery will be complemented by two theaters, event space and an 11-acre park surrounding.
IN PRODUCTION ⎸ YOUR PLANS
Some of Downtown LA's next big things are already in development for meetings & conventions – we're just waiting on you! 
As the official DMO/CVB for the City of Los Angeles, we are your direct resource for everything Los Angeles has to offer. Our team will help you navigate your options, making your group's DTLA experience a welcoming and accessible one.