March 2, 2014: Oscar Viewing Parties in Los Angeles
February 28, 2014
Updated on November 18, 2014
This weekend, the eyes of the world will be on the 86th Annual Academy Awards, taking place at the Dolby Theatre in Hollywood. With that in mind, we've gathered five of the best Oscar viewing parties happening in Los Angeles on Sunday, March 2, 2014. Make your predictions, sip an Oscar-themed cocktail, and join the global audience of viewers as the winners are announced.
For more events happening throughout LA, be sure to check out our exclusive Events Calendar. Read More →
DINNER, COCKTAILS & THE OSCARS - BIG BAR
enlarge photo [+]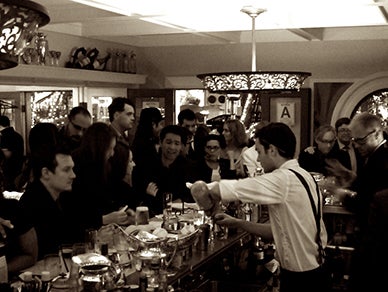 Beginning at 4 p.m. on Sunday, March 2, Big Bar at Alcove Cafe hosts its annual Oscar viewing party on the patio, featuring the 86th Annual Academy Awards projected on a giant 17-foot screen beneath the night sky. There are no reservations and no cover for this event - it's first come, first seated. In addition to its regular food and cocktail menus, Big Bar is serving a special Oscar-themed menu, including The Oscar (grilled marinated skirt steak salad with avocado, tomato, cucumber, red onion, and red wine vinaigrette, served with chimichurri-parmesan toast) and the Thank Your Mother (Grey Goose Cherry Noir, violet, lemon, spritz).
HOLLYWOOD'S BIGGEST NIGHT - MILLION DOLLAR THEATRE
The Los Angeles Historic Theatre Foundation (LAHTF) and the Grand Central Market present Hollywood's Biggest Night, featuring the glamour and spectacle of the Academy Awards, broadcast live on the big screen of the historic Million Dollar Theatre. Arrive early and dine at one of the exciting new eateries or an old favorite at the Grand Central Market. Dress up for the red carpet or as one of your favorite nominees for a chance to win a prize. Grab a drink from the no-host bar, and enjoy the rare opportunity to explore the legendary theatre, which first opened in 1917. The event starts with Red Carpet Coverage at 4 p.m., and the Oscars start at 5:30 p.m.
Tickets to Hollywood's Biggest Night are $20 for general admission, $15 for LAHTF Members. All proceeds benefit the Los Angeles Historic Theatre Foundation, a 501 (c)(3) non-profit organization dedicated to protecting, preserving, restoring and sustaining the operation of Southern California's historic theatres.
//} ?>
One Dragon, One Party - Cat & Fiddle
Join TheOneRing.net for its One Dragon, One Party event taking place on Sunday, March 2 at the historic Cat & Fiddle Restaurant and Pub in Hollywood from 4 p.m. to 11 p.m. Celebrate the Feast of Starlight alongside your closest J.R.R. Tolkien friends and share your love for all things Middle-earth, including The Hobbit. The festivities begin with food and drink, to go with a live screening of the 86th Academy Awards. Enjoy silent auctions, games, and more throughout the evening. This will be a night of fun and fellowship - a rare chance to gather with fellow Tolkien fans from around the world. Originally built in 1929 to house movie studio wardrobes, the Cat & Fiddle has hosted many TORn celebrations over the years. Admission to the dragon-themed party is $55-60.
//} ?>
OSCAR VIEWING PARTY WITH AN OCEAN VIEW - MAR'SEL
Located at the spectacular Terranea Resort in Rancho Palos Verdes, mar'sel presents an Oscar viewing party with an ocean view, featuring a themed menu inspired by some of the top nominated films. Chef de cuisine Rebecca Merhej is serving appetizers, entrees, and desserts created to celebrate 11 Oscar hopefuls. The films appearing on this year's menu range from the visually stunning Gravity - the inspiration for Merhej's "Moon Pie" dessert - to the prehistoric animated comedy The Croods, represented by roasted bone marrow with garlic confit and pickled vegetables. Additional menu highlights include "Science Oven" Hot Pockets made from house-made pan bianco and filled with white cheddar and prosciutto (American Hustle); Cowboy Chili Beans with sour cream, sharp cheddar, and green onion (Dallas Buyers Club); and Potato Blini with caviar, crème fraiche, and truffle oil (The Wolf of Wall Street). Paired wines and themed craft cocktails will also be available.
The viewing party begins at 4 p.m. and the Oscars follow at 5 p.m. Guests can win a special prize by filling out their own Oscar ballot. The guest who predicts the most Academy Award winners will win a dinner for two at mar'sel, valued at $250. Reservations to the Oscar viewing party are required, call 310.265.2836.
//} ?>
WINDOWS LOUNGE - FOUR SEASONS LOS ANGELES, BEVERLY HILLS
enlarge photo [+]
Located on the lobby level of the Four Seasons Los Angeles, Beverly Hills, the newly expanded Windows Lounge features plush sofas, comfortable armchairs and an extended outdoor patio. The Window's Lounge Oscar viewing party starts at 4 p.m. and features a menu of cocktails inspired by nominated movies, including: Fugazi, inspired by The Wolf of Wall Street, made with gin, lime, agave, mint and mini meringues; the American Hustle-inspired Hustle N'Irving, made with gin, Luxardo maraschino liqueur, Galliano and lemon; and the Minion's Mule, a Moscow Mule named for supervillain Gru's henchmen from Despicable Me 2, made with vodka, lime juice and ginger beer.
Experience these events and everything else that Los Angeles has to offer by staying the weekend at one of LA's great hotels. Book Now →
300 S. Doheny Dr.
90048
Los Angeles
,
CA
1929 Hillhurst Avenue
90027
Los Angeles
,
CA