Celebrate Chinese New Year in Los Angeles
January 21, 2014
Updated on February 4, 2016
Chinese New Year, aka Spring Festival, is the most significant holiday of the year in China, as well as countries and territories with large Chinese populations, and in Chinatowns across the country. The Lunar New Year is celebrated with colorful parades, festivals, and most importantly, large family gatherings. It's also a time to honor ancestors and to give thanks for good fortune. Sumptuous meals with "lucky" dishes, red envelopes (hongbao), and firecrackers are all traditional parts of the festivities.
Los Angeles is celebrating the Year of the Monkey with events ranging from a traditional temple ceremony to a spectacular parade, lavish buffet and great deals for shopping and hotels. Gōng xǐ fā cái!
Jan. 21 - Feb. 20, 2016: The Grove & The Americana at Brand
Now through Feb. 20, two of L.A.'s top shopping destinations, The Grove and The Americana at Brand, are celebrating the Year of the Monkey with traditional performances, special festivities, shopping incentives, promotions, social media contests and Chinese décor conceptualized by Stephen Stefanou of Venue Arts.
Visitors at The Grove will see hand-formed fan sculptures, brilliant red Chinese New Year lanterns, giant Moso bamboo poles, Qilin Foo Dogs, and a bright horticulture garden. An oversized God of Prosperity statue, lanterns and horticulture will be on display at The Americana at Brand, as well as an enchanting 14-foot red lantern made with diaphanous red fabric, gold leaf Chinese calligraphy detail and beautiful gold tassels. The fountains at both properties will turn red for Lunar New Year; The Americana at Brand will showcase nightly fountain shows at 7 p.m. and 8 p.m., choreographed to "Give Me a Kiss" by Wan Fang. In addition to the scenic décor at The Grove, guests can enjoy special Lunar New Year shopping offers from an array of tenants, including Sprinkles Cupcakes and more.
Jan. 30 - Feb. 14, 2016: LUNAR NEW YEAR - UNIVERSAL STUDIOS HOLLYWOOD
Celebrate the Year of the Monkey with Lunar New Year festivities at Universal Studios Hollywood now through Feb. 14. Enter the red lantern-lined Universal Plaza and come face-to-face with a Mandarin-speaking Megatron from TRANSFORMERS™ against an all-new photo op backdrop. Take photos with the beloved monkey, Curious George, who will be dressed for the festivities in traditional Chinese attire. Share your new year wishes at the Wishing Trees, find your zodiac animal to see if your personalities match, and enjoy food and activities for this unique cultural experience.
Feb. 1-8, 2016: Lunar New Year Celebration - CITADEL OUTLETS
Citadel Outlets will host a week-long Lunar New Year Celebration sponsored by Air China from Feb. 1-8. Shoppers will have the chance to enjoy festive red and gold lanterns, twinkling lights and an authentic 17-foot Chinese pagoda decorating center court.
On Saturday, Feb. 6 from noon to 3 p.m., more than 40 live dancers and artists from the Los Angeles Chinese Cultural Center will perform Chinese dragon dances, folk dances and traditional songs and drum ceremonies. Running Feb. 1-8, Citadel Outlets will be also be honoring the ancient Chinese "Red Envelope" gifting tradition by giving away red envelopes filled with gift cards and center promotions at the Customer Service Center. Interested shoppers can join in the fun by saying the phrase "Xin nian kuai le" or "Gong xi fa cai" which means "Happy New Year" to receive a complimentary red envelope. The tradition, symbolizing good luck and well wishes for the New Year, is a gift from Citadel Outlets to express appreciation for the center's wonderful shoppers and guests from all over the world.
BONUS: From Jan. 18 – Feb. 14, all center visitors who travel to or from Los Angeles on Air China will have the opportunity to present either their Air China boarding pass, flight itinerary or Phoenix Miles card and receive a complimentary tote bag that will include store gifts, as well as complimentary access to the center's VIP Luxury Lounge featuring comfortable seating, cable television, WiFi access, snacks, beverages and concierge services.
//} ?>
Feb. 1-29, 2016: WISHING TREE - BEVERLY CENTER
The Beverly Center celebrates the Year of the Monkey by transforming its Center Court into a stunning interpretation of a traditional Wishing Tree - highlighting customary Spring Festival elements, along with monkey-themed decorations and symbols of good fortune. Lunar New Year celebrations launched on Feb. 1 with an enchanting Wishing Tree in Center Court, where guests are invited to write their wish for joy, luck and prosperity. In Chinese culture, placing wishes on the Wishing Tree will make them come true. At Guest Services, enter for a chance to win a $500 shopping spree. Share your Wishing Tree moment on Facebook, Twitter, Instagram, Weibo and WeChat using the tag #beverlycenterstyle.
Usher in the Lunar New Year and share the Chinese tradition of receiving hong bao (red envelopes) when you shop. Throughout the month, guests will receive a red envelope enclosed with a $25 Beverly Center Gift Card at Guest Services (while supplies last) when they show same-day receipts of $500 or more from any Beverly Center retailer. Guests who spend $1,000 or more will receive a $50 Beverly Center Gift Card (same day purchases only).
Chinese New Year Hotel Packages - Beverly Hills (Feb. 2016)
Several Beverly Hills hotels are offering Chinese New Year room packages, including Beverly Wilshire, A Four Seasons Hotel, The Beverly Hilton, L'Ermitage Beverly Hills, Montage Beverly Hills and The Peninsula Beverly Hills. These hotel packages welcome guests with Chinese amenities like a hot water kettle with Chinese tea, Chinese newspaper, slippers, almond or sesame cookies, in-room Chinese breakfast dining options and more. Hotel packages will be available through the end of February 2016.
Feb. 6, 2016: Lunar New Year Festival - Port of Los Angeles
The Lunar New Year Festival at the Port of Los Angeles is taking place on Saturday, Feb. 6 from 2-7 p.m. Against the colorful backdrop of traditional hanging lanterns and floating lotus flowers, the free event features cultural entertainment, lion dancers, crafts, food trucks and a spectacular fireworks finale. During the festival the popular Waterfront Red Car Line vintage trolleys will offer free rides.
Enjoy special hotel room rates for the Lunar New Year Festival and experience San Pedro and the Port of Los Angeles. The special rate at DoubleTree by Hilton Hotel San Pedro - Los Angeles is $132 plus tax. Call 310.514.3344 ext. 423 and mention "Lunar New Year Festival." For the Crowne Plaza Los Angeles Harbor Hotel, email [email protected] and mention the "Lunar New Year Festival" for the special room rate of $119 plus tax.
Feb. 6, 2016: Family Day: A Monkey Celebration - Norton Simon Museum
How might you describe the monkeys in Henri Rousseau's Exotic Landscape? Spend the day at the Norton Simon Museum and celebrate the Year of the Monkey with this interactive activity. Share what you see, and make a paper-bag monkey puppet or another animal puppet of your choice. Meet in the Entrance Gallery. Free with admission. Recommended for families with kids ages 4-10.
Feb. 7, 2016: CityRace: The Great Chinatown Hunt
Ring in the Chinese New Year with an exciting clue-solving adventure in Chinatown. This race is the best way to learn about Chinatown's ancient traditions, experimental art, and the mysterious Mr. Lee! You'll search for clues throughout the neighborhood, discover ancient traditions alongside experimental art, explore picturesque temples, bustling shops and hidden courtyards. You'll also be sent on two challenging mini-quests, where you must successfully complete a series of unique tasks to win extra bonus points. The Race starts at 11 a.m. and is moderately challenging.
Feb. 7, 2016: Midnight Temple Ceremony - Chinatown
Downtown L.A.'s historic Chinatown welcomes the Year of the Monkey with a traditional celebration at Thien Hau Temple. The midnight temple ceremony takes place from 10 p.m. to 1 a.m. on Chinese New Year's Eve - Sunday, Feb. 7, 2016. Attendees can participate in traditional incense burning, make offerings to deities, watch lion dances and enjoy 500,000 firecrackers in action at one of L.A.'s grandest temples. The ceremony is free and open to the public.
Feb. 7, 2016: Chinese New Year's Eve - General Lee's
General Lee's welcomes thirsty guests to enjoy craft cocktails in the heart of historic Chinatown. Located in the former Mountain Bar space, General Lee's boasts a stunning design and multiple bars across its soaring two-level interior. On Sunday, Feb. 7, General Lee's rings in the Year of the Monkey with a festive Chinese New Year's Eve celebration. The event takes place from 8 p.m. to 2 a.m. and features drink specials, DJs, a midnight countdown and more. No cover, festive red attire is suggested.
Located on Grand Avenue at the iconic Walt Disney Concert Hall, Patina is the flagship restaurant of acclaimed chef Joachim Splichal. Patina Executive Chef Paul Lee welcomes luck and good fortune with Chinese New Year tasting menus that showcase his bold cuisine. Available Feb. 7-13, tasting menu highlights include Drunken Quail with roasted chicken consommé, and caviar; Barramundi with fermented black beans, and bok choy; and Shao Hsing Braised Pork Belly with truffled steam bun and cabbage. In addition to the three- and five-course tasting menus, Patina will treat guests to small red sachets, each with $8 bounce-back vouchers, redeemable for one month from 8 p.m. to close. A few lucky bags will contain an $88 bounce-back voucher. Pricing is $85 for three courses, $110 for five courses.
Feb. 9 -19, 2016: Traveling Night Market & Wishing Tree - WP24
WP24 Restaurant at The Ritz-Carlton, Los Angeles will ring in Chinese New Year on Feb. 9, 2016 with its first-ever Traveling Night Market. The one-night-only event begins with a traditional lion's dance at 6:30 p.m. and features a "Night Market" with live-action stations preparing Chinese delicacies such as Alaskan King Crab Lo Mai and a Whole Roasted Peking Duckling. The highlight is a sumptuous three-course dinner that includes 5-Spice Marinated Colorado Lamb Chops and Szechuan Peppercorn Crusted American Wagyu Ribeye with Oxtail Shanghai noodles. There will also be a special guest dropping by to say hello! The Traveling Night Market is priced at $110 per person with an optional wine pairing available for $35 per guest.
The Traveling Night Market event marks the start of the restaurant's celebration of the Lunar New Year. From Feb. 10–19, guests can order a special Chinese New Year tasting menu and enjoy the return of the venue's popular Wishing Tree adorned with red envelopes. At the end of the meal, guests may select an envelope that holds a proverb, message, or special gift such as a complimentary spa treatment at The Ritz-Carlton Spa, Los Angeles or a specialty cocktail from WP24.
FEB. 12-13, 2016: Santa Monica Place
Celebrate the Lunar New Year at Santa Monica Place on Friday and Saturday, Feb. 12-13. The whole family will enjoy traditional music performances, monkey balloon twisters, stilt walkers, fan dances, dragon dance, arts and crafts, and a martial arts demonstration.
Now through Feb. 14, 2016 enjoy exclusive Lunar New Year deals at selected retailers, such as 10% off services at Carlton Hair, $100 off any $500 purchase at Diane Von Furstenberg, 15% off at Hugo Boss and more.
FEB. 13, 2016: CHINESE NEW YEAR FESTIVAL - CHINATOWN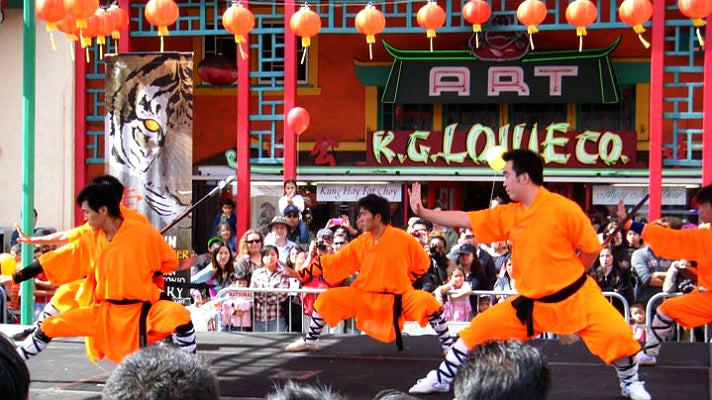 The annual Chinese New Year Festival is taking place in Chinatown Central Plaza Stage (New Chinatown) on Saturday, Feb. 13. The landmark Central and West Plazas are featuring live music and cultural performances, cultural artisans, vendors, gourmet food trucks and a craft beer garden. Festival hours TBA. Admission to all festival events is free.
FEB. 13, 2016: GOLDEN DRAGON PARADE - CHINATOWN
The highlight of Downtown L.A.'s Chinese New Year festivities is the 117th Annual Golden Dragon Parade, taking place in Chinatown from 1-3 p.m. on Saturday, Feb. 13. Thousands of spectators line the route to view the parade, which features dozens of floats, marching bands, entertainers, local business leaders and cultural groups. The parade will commence at Hill and Ord Streets and conclude at Broadway and Cesar Chavez. The 2016 Grand Marshal is TBA. Previous Grand Marshals include everyone from legendary martial arts master Bruce Lee to Playboy founder Hugh Hefner.
Feb. 13, 2016: Lunar New Year Celebration - Alhambra
Celebrate the Year of the Monkey in Alhambra as it takes over five city blocks of the Chinese commercial district along Valley Boulevard from Garfield to Almansor. Hundreds of vendor booths, crafts, children's workshops, cultural demonstrations, a dragon boat rowing station, games and food attract a big crowd.
Feb. 20-21, 2016: L.A. Chinatown Firecracker
The annual L.A. Chinatown Firecracker 5/10K Run/Walk & Bike Ride is one of Southern California's premier Lunar New Year traditions. The two-day event is the signature fundraiser for the L.A. Chinatown Firecracker Run Committee (LACFRC), a 501(c)(3) non-profit organization whose mission is to promote physical fitness, literacy, and cultural engagement through community-based events. The Firecracker Festival with live entertainment and vendors is free to the public and takes place in Chinatown's Central Plaza.
The 20 and 30-mile bike rides take place on Saturday, Feb. 20. The 20-mile route is geared towards families and casual riders. A major portion of the ride will be along the Los Angeles River on the L.A. River Bike Path, which is away from traffic and offers great views. The 30+ mile route will be completely on city streets and feature challenging hills in Elysian Park, Griffith Park and a loop around the Silver Lake Reservoir.
The 5K, 10K and Kiddie Run take place on Sunday, Feb. 21. The 5K run/walk is an out and back course that takes participants past the main entrance to Dodger Stadium. The 10K course is a challenging run through the hills of Elysian Park. The Kiddie Run is an out and back course on Broadway with a U-turn at Bishops Road, then back to the official finish line. Parents may accompany their child. A carnival in the Kiddie Run area for all registered Kiddie Run participants will take place from 7-11 a.m., featuring carnival games, face painting, petting zoo, puppet show and more.
Feb. 20–21, 2016: Chinese New Year Celebration - The Huntington Library, Art Collections, and Botanical Garden
Celebrate the Lunar New Year at The Huntington Library, Art Collections, and Botanical Garden as the Year of the Monkey begins. The two-day family event includes Chinese music, art, performances, and more. The festivities will take place in and around The Huntington's Chinese Garden and in other outdoor and indoor spaces. Performance schedule: Lion Dancers (at 10:30 a.m., 12:30 p.m., 2:30 p.m., and 3:30 p.m.), Mask-Changing (at 11 a.m., 1 p.m., and 3 p.m.), Martial Arts (at 11 a.m., 12:30 p.m., 1 p.m., and 2:30 p.m.), and Chinese Music (from 11 a.m. to 1 p.m., and from 2 to 4 p.m.). Other activities will be ongoing and will include displays of penjing (Chinese bonsai) and scholar's rocks, and demonstrations of calligraphy, finger-painting, and Chinese brush painting. All activities are included with Huntington admission. ($25 adults; see website for discounted rates for seniors, students, children, and groups.)
Feb. 21, 2016: JJ LIN - Shrine Auditorium
Star Zone Entertainment presents JJ Lin at the Shrine Auditorium on Feb. 21, 2016. Lin is a Singaporean Mandopop singer-songwriter, composer, and actor based in Taiwan. He won Best New Artist for his work on his debut album Music Voyager at the 15th Golden Melody Awards in 2004. To purchase tickets, visit www.axs.com/events/304229/jj-lin-tickets.
March 5, 2016: Lantern Festival - CAM
Located in the oldest surviving building of L.A.'s original Chinatown in Downtown L.A., the Chinese American Museum (CAM) is the first museum in Southern California dedicated to the Chinese American experience and history in this region. The annual Lantern Festival is one of the museum's signature events and a beloved community tradition. Join Angelenos beneath Chinese lanterns in the vibrance of Downtown L.A. for the 14th Annual Los Angeles Lantern Festival. A hugely popular holiday in the Chinese culture, the Lantern Festival occurs on the 15th day of the first lunar month and marks the end of Chinese New Year festivities. The CAM Lantern Festival includes engaging community booths, live entertainment, music, arts and crafts, and food trucks. CAM's 14th Annual Lantern Festival is taking place on Monday, Feb. 22, 2016 from noon to 7 p.m. Admission is free.
April 23-24, 2016: Shen Yun: The Arts Connect Heaven and Earth - Microsoft Theater
Celebrate the Chinese New Year with Shen Yun: The Arts Connect Heaven and Earth perfomances on April 23-24 at the Microsoft Theater at L.A. LIVE. Based out of New York, Shen Yun Performing Arts is the world's premier classical Chinese dance and music company. Discover classical Chinese dance, one of the most rigorous and athletic, yet exquisitely beautiful art forms in the world. For more information, ticket information and performance times, visit: www.shenyun.com/los-angeles.
HAPPY CHINESE NEW YEAR - SABAN THEATRE (2017 TBA)
The fifth annual Beverly Hills Chinese New Year celebration took place at the Saban Theatre on Sunday, Jan. 31. The special event, Happy Chinese New Year – Charming Beijing featured a full production of internationally acclaimed performances from Beijing Opera Arts College, including Xu Cui, Gao Tong and Li Dan, as well as acrobat Xing Yunwei from the China National Acrobatic Troupe. A colorful Chinese fashion display was on view in the Saban Theatre lobby. Guests also enjoyed an art exhibition from Beijing Foreign Cultural Exchanges Center (BCEC).