The Best Restaurants in Pasadena
May 2, 2013
Updated on June 28, 2015
The Pasadena dining community is expanding in both breadth and depth. As noted in the LA Times, Pasadena has more restaurants per capita (550 eateries and counting) than New York. No longer is Old Pasadena limited to chain restaurants, and no longer is Pasadena dining limited to Old Pasadena. Now the unofficial capital of the 626 area code has drawn international influences and top culinary talent to help complement the city's rich history.
More than one Campanile veteran is baking professionally in Pasadena, including Sumi Chang, who's carved out a nice culinary niche. She now operates two cafes that specialize in pastries like macarons, cinnamon rolls, and cookies. Euro Pane version 2.0, located across from Paseo Colorado, features a large patio, giant slice of tree that doubles as a communal table, and a bread "aquarium" filled with rounds, loaves and slabs. Yes, that bread factors into deluxe sandwiches, whether it's meatloaf with caramelized onions, mayonnaise, Dijon mustard, tomato and greens; or the vaunted egg salad sandwich, featuring poached eggs, sun-dried tomato paste, mixed greens, chives and a choice of bread, perhaps none better than buttery brioche.
This restaurant from LGO Hospitality, which co-owner Bob Lynn named for the "big orange" groves that once bordered the Rose City, occupies the main terminal of the bygone Santa Fe Railway Depot, which dates to 1935. The space still leans on history, with a cedar ceiling, an open kitchen that lives behind the old ticket counter, and an African mahogany bar that goes by Otis. Executive chef Paul Lindsay presides over a menu that draws on comfort food influences from around the globe. LGO has deviled eggs dusted with bacon bits; short rib tacos with rice, beans and chunky guacamole; Edna's Dixie Chicken with mashed potatoes; and a Santa Fe Depot burger with Poblano chile, chipotle aioli, and grated cheddar. LGO Hospitality also operates The Luggage Room, a wood-fired pizzeria that's located - you guessed it - in the depot's luggage room.
Christine Moore's bakery and cafe might just be the house that sea salt caramels built. Her signature sweet and salty creation, combined with the marshmallows, propelled her early wholesale efforts. Now the Campanile veteran runs an order-at-the-counter café west of Old Pasadena, filling pastry cases with options like cinnamon rolls, muffins and cookies. A menu composed primarily of sandwiches, salads and bowls has seasonal flourishes and might include a tandoori wrap with dal, apricot red pepper chutney, raita and spinach; or an English pea and prosciutto salad with arugula, Parmesan, avocado, and lemon thyme vinaigrette. Yes, it remains imperative to make room for something sweet.
Northeast Pasadena features plenty of interesting Middle Eastern dining options, including this grab-and-go Syrian bakery. Old Sasoon dates to 1948, when Haroutioun Geragosian set up shop in Aleppo. Son Joseph now runs the stateside version, which features a wide variety of flatbreads that incorporate ingredients like spiced ground beef, house-made soujouk sausage, or a beguiling blend of zahtar, chile and onion. The Manaiesh Sandwich is a morning-only special that features zahtar, mint leaves, tomatoes, green olives and raw onions. Khachapuri is a Georgian delicacy that's shaped like a football and packs plenty of white cheese, seasonings and raw eggs, which bake to order. They also have a variety of Syrian-style cookies and baklava, which deliver judicious sweetness.
Osawa Shabu Shabu & Sushi
Sayuri Tachibe, the wife of Chaya Corporate Executive Chef, Shigefumi Tachibe, struck out on her own in Old Pasadena with Osawa, a restaurant that combines a focused combination of izakaya fare, shabu shabu and sushi. The space includes art-lined walls, an open kitchen, and shabu shabu pots built into the L-shaped counter. Chef Norio Yoshikawa presides over a menu that includes thin-sheathed seafood "cigars" that contain minced squid, octopus and shrimp and come with seven-spice mayo. Bagna Couda, a savory anchovy and butter sauce, comes with a plank of organic farmers market vegetables for dipping. Shabu shabu comes with a basket of udon noodles, tofu slabs, shungiku (garland chrysanthemum) leaves, Nappa cabbage, scallions and two dipping sauces: ponzu and sesame. The prime ribeye has deep color and good fat rimming. It's also possible to upgrade to super premium Wagyu beef from Saga, which cooks near instantly. Sushi consists of small, creamy uni from Hokkaido, and well-marbled toro, which arrives in 15-pound zabutons (mattresses) from Maguro. For dessert, nutty black sesame soy milk panna cotta arrives wrapped in decorative washi paper.
The Parkway Grill has been a Pasadena mainstay since 1984 and helped fuel several more restaurants from the Smith Brothers – Bob and Gregg - including Arroyo Chophouse across a parking lot. Parkway's experience includes live piano music and a bar that began life in 1920s Chicago. The Parkway Grill features seasonal American cuisine and even grows herbs and vegetables on-site. A mesquite grill and oak-burning oven join forces to contribute dishes like spring lamb lollipops with crispy goat cheese polenta croquettes, pine nut fig relish, and pomegranate mint syrup; and filet mignon with Yukon gold "smoked" mashed potatoes, wild mushroom ragout and marsala-veal reduction. Since the restaurant sources California produce, expect several seasonal salad options. Over the years, the Smith Brothers have amassed more than 3,000 wine bottles, which have helped to earn The Parkway Grill accolades.
It's always pie time at Pie 'N Burger, at least according to the clock that rests on the wall by the entrance of this Pasadena mainstay, which dates to 1963. Caltech students still flock to owner Michael Osborn's establishment, filling counter seats that overlook veteran grill men, and provide a sneak peek at the tantalizing pie case. Most people come for juicy grilled burgers, which join homemade Thousand Island dressing, pickles and crisp iceberg lettuce on all-American buns. Add bacon and Swiss if you're feeling bold, and add buttery hash browns if bold isn't good enough. Pie 'N Burger sells more than a dozen pie varieties every day, including sweet peach in summer, and coconut cream pie with a thick layer of fluffy meringue, year round.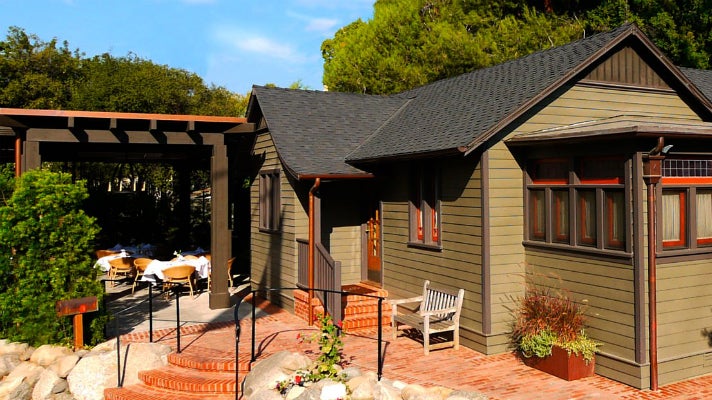 A building that started as a caretaker's cottage for the stately Raymond Hotel became a restaurant in 1975. Current owners Rob Levy, wife Leslie and Gary Weyand upgraded the Craftsman cottage and cocktail program in 2010 with the help of designers David Poffenberger and Derrick Flynn of Soda Design and mix masters Marcos Tello and Aidan Demarest of Tello Demarest Liquid Assets. The space now features an inviting patio, the 1886 Bar with a pressed tin ceiling and retro feel, and intimate dining rooms. Chef Tim Guiltinan crafts a seasonal menu with progressive plating that might include The Salad of Forgotten Roots with flowers, herbs and "other neat stuff;" twice-cooked squid with pickled white asparagus, wood ear mushrooms, herbs and grilled yogurt; and Moroccan-style lamb, a combination of braised shank, roasted rack and baby cauliflower. To finish, it comes down to whether you'd like a dessert, or perhaps a creative cocktail like the Peanut Butter Cup with peanut-infused rum, crème de cacao and fresh whipped cream.
Roma Italian Deli and Grocery
This Pasadena institution dates to 1953, when Rosario Mazzeo founded the Italian market and deli just north of what is now the 210 freeway. His family now presides over the strip mall establishment, which features shelves of dried pasta, a small produce section, wine, amaretti, San Pellegrino sodas, imported Italian meats and cheeses, coffee and gelato. A small deli section touts an olive bar, marinated artichokes and peppers, homemade mild and hot sausage, and a singular sandwich. Crusty bread hosts layers of Mortadella, capicola, salami and mozzarella, along with a drizzle of olive oil. Add a crunchy, spicy stuffed pepper filled with provolone and prosciutto, soaked in a prodigious amount of olive oil.
The Royce | Wood-Fired Steakhouse
The Langham Huntington, Pasadena, debuted in 1907 and continues to stay relevant by continuing to refine their culinary concepts. They replaced Dining Room in 2011, allowing their ships-in-bottles to drift out to sea in the process. The evolution continued in March with the opening of The Royce | Wood-Fired Steakhouse. The dining room now has white banquette islands with an overhead track ringed with abstract stars. Glass fronted wine rooms frame the hostess stand. A curtained glass wall faces the hotel's well-manicured grounds. In the kitchen, Chef Anthony Zappola is a veteran of Tom Colicchio's Craft Restaurant Group, and he's presiding over a modern, a la carte steakhouse menu that features Prime USDA beef from Pennsylvania, Australian wagyu from golfer Greg Norman, and Kobe-style wagyu from Japan, available by the ounce, all grilled over white oak. Seasonal accompaniments may include spaghetti squash gratin, Sea Island red peas with fresh bacon, or soft polenta with mimolette cheese. It's possible to avoid steak altogether with options like whole roasted poussin or Dover sole meuniere.
Wallaporn "Dang" Vattanatham has built a contemporary Thai compound south of Pasadena's Central Park. Saladang features more mainstream Thai dishes, and Saladang Song elevates the design while straying from the same old culinary path. The spin-off, which opened in 2000, features towering walls, an open-air patio and a decorative metal framework. Some of the more progressive dishes include miang rambutan, lettuce cups filled with tofu, peanut, ginger, onion and coconut. Deep-fried corn cakes join marinated cucumber. Buns of rice vermicelli graciously host grilled, marinated pork skewers, which bathe in tangy lime chili sauce. Seafood stars in coconut curry, and yum eggplant features grilled strips of eggplant and butterflied shrimp. For dessert, the restaurant has mango with sticky rice when the sweet fruit's in season, along with versions featuring sang-ka-ya, a custard that's similar to hot butterscotch, only less sweet.