The Best Pies in Los Angeles
July 29, 2013
Updated on March 15, 2016
Whether the pie has a lid, a crumbled cap, or Graham cracker crust, or the filling is fruit, nuts, or custard, L.A.'s got plenty of enticing options. So grab a fork and knife, or just use your hands and enjoy some of our favorites.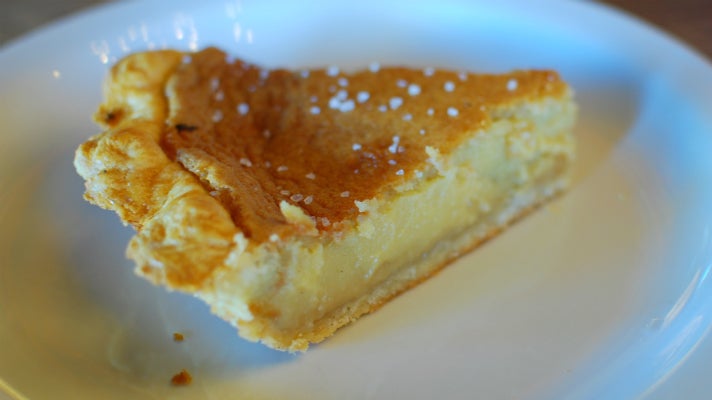 Eastside hospitality magnate Dana Hollister revamped this Echo Park diner, which dates to 1949. An aqua walled patio now features plant life, orange chairs, and a cartoon character that encourages guests to "Keep Smiling." Inside, you'll find shiny red booths, a wood counter, Mid-Century Modern molecular model chandeliers and a jam-packed display case. Pastry chef Darby Aldaco bakes whiskey buttermilk, bourbon pecan and chocolate peanut butter cream pies, but if you can only order one slice, make it the Salted Honey. A sturdy crust holds up to a browned custard core that bleeds honey on to the plate. The topper is a dusting of savory sea salt that makes the pie pop.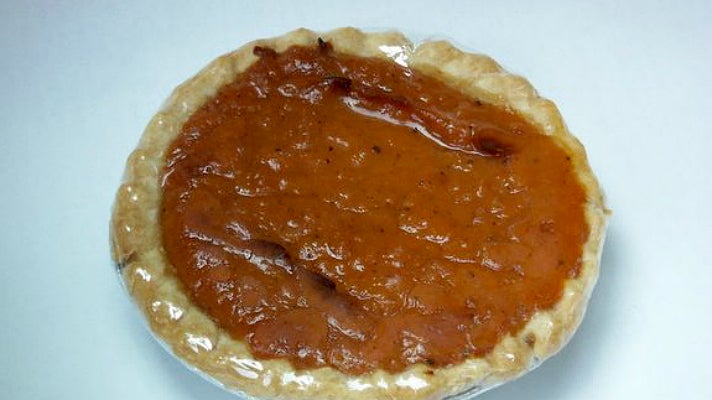 The working class community at the base of the San Gabriel Mountains is the setting for David Davis' small but soulful bakery, which is best known for honey muffins, but also yields some excellent pies. Sweet potato pies feature buttery crusts and silky orange fillings. Davis and his family also bakes pumpkin pies and darker, earthier bean pies. Bonus: they also produce plastic-wrapped mini pies, which are great for a quick hit.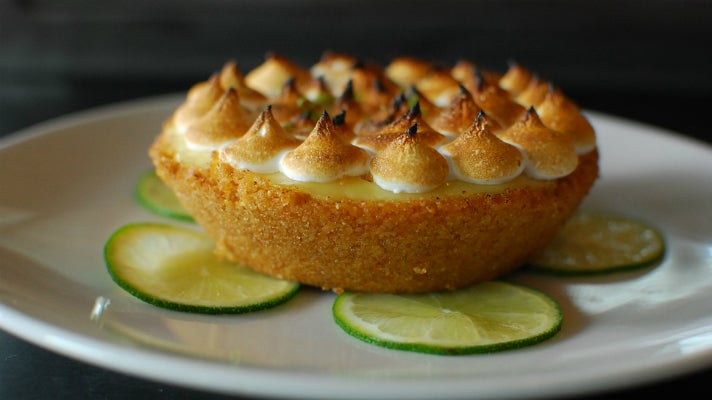 Manhattan Beach is a long way from the Florida Keys, but chef David LeFevre has managed to create a memorable Key lime pie at his small seafood-centric restaurant that's only two blocks from the pier and Pacific Ocean. Creamy, sweet tart filling tops a Graham cracker crust. Flames of torched Kaffir meringue shoot out of the top. The tantalizing pie is plated on decorate lime slices and finished with tangy lime zest.
Nicole Mournian, who dominated the 2012 KCRW "Good Food" Pie Contest and won the "Perfect Pie" award at this year's APC Crisco National Pie Championships, releases a different pie every day at 3:00 p.m. She uses Plugra butter for the crust, which is crisp and often cradles seasonal fruit. Lidded blueberry pie has concentrated flavor and tangy touch. She's also been known to incorporate mixed berry, blueberry and pear, or berry and elephant heart plum. Streusel also factors into certain pies. She's a key member of the Gjelina team opening a bakery on Venice's Sunset Avenue nearby. Yes, they'll have pie.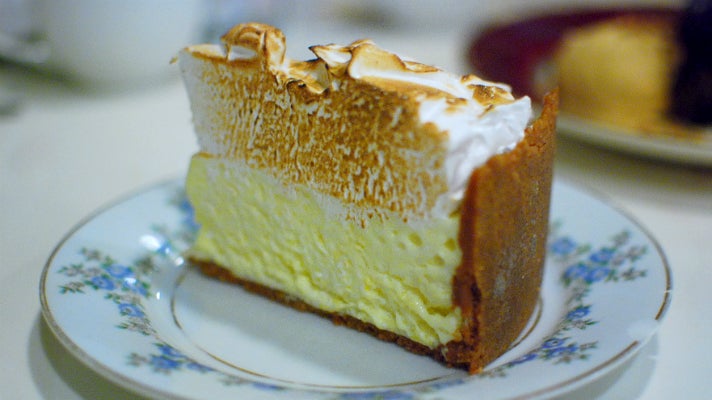 At Kris Tominaga and Brian Dunsmoor's California-influenced Southern restaurant in West Hollywood's Palihotel, pastry chef Sarah "Bearclaw" Schreck serves towering slabs of lemon icebox pie, a Southern classic that requires crafting a tangy, airy filling and solidifying it in the fridge overnight. A thick layer of torched meringue caps the crisp-crusted siding and base. Schreck also makes peach hand pies in summer, just like in Georgia.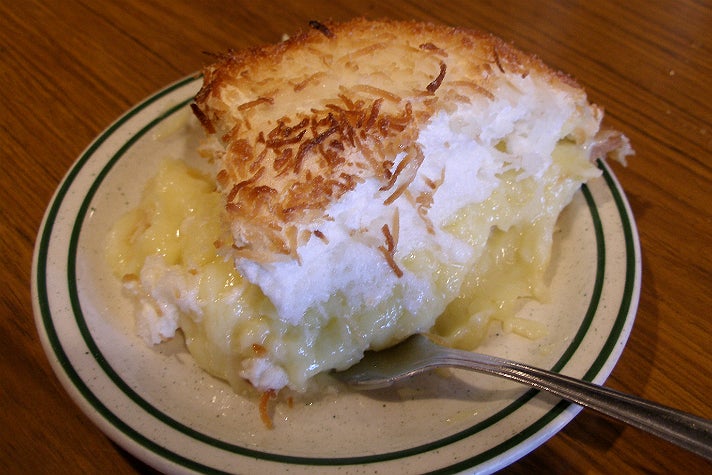 It's always pie o'clock at Pie 'N Burger, which has lived down the street from Caltech since 1963. So says the neon clock on the wall near the entrance. Current owner Michael Osborn started working there in 1972, and the same pie maker has been filling shelves with fruit and cream pies since 1971. They bake more than a dozen types of pie every day. In July and August, that means peach pie with big chunks of fruit and little more. Coconut cream pie is available daily, complete with shreds of toasted coconut, a fluffy meringue cap and thin crust. You may find apple, cherry, or minced meat as well.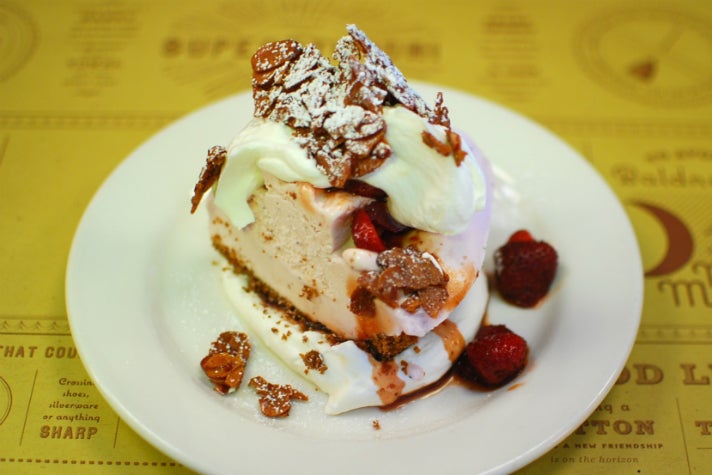 Mozza has become a juggernaut at the corner of Melrose and Highland, with three compelling restaurants that sit side by side, plus a grab-and-go outlet. Dessert has always been a key strength, thanks to pastry chef Dahlia Narvaez and her mentor, Mozza co-owner Nancy Silverton. For summer at Pizzeria Mozza, the most casual restaurant of the bunch, Narvaez created a towering strawberry gelato pie. Each oversized slab sports a Graham cracker crust, cascading whipped cream, strawberries, sheets of toasted spiced almonds, primarily for texture's sake, and a complementary drizzle of tangy saba.
Jon Stocking has built a NoHo Arts District destination hangout, thanks to a unique vibe and a variety of sweet and savory pies. The café features exposed wood rafters, reclaimed wood walls, and a Stumptown Coffee program that includes cold brew on tap. Pie fillings include cherry, peach, and pumpkin, depending on the season. Some pies are available year-round, including a memorable Chocolate Espresso Almond Cream, which features a marzipan base, a gritty blend of espresso and chocolate, espresso pastry cream, espresso whipped cream and whipped cream. The base is a fairly basic crust of flour, butter, eggs, and water. The Republic plates this pie with a decorative squiggle of chocolate sauce.
This sandwich and pie shop from Ryan Handel and Andrew Paxon features a display case full of options both tiny and small in Mid-City. The selection may include mud pie (AKA flourless chocolate), key lime, pumpkin streusel and more. Still, it's a British-inspired rich banana toffee pie called Banoffee, which incorporates sliced bananas, whipped cream and is a topped with a banana chip, that impressed us most. The base crust is gritty graham cracker and additional cracker litters the plate. Bonus: The tables have butcher paper with a gallows and crayons in case you enjoy playing Hangman.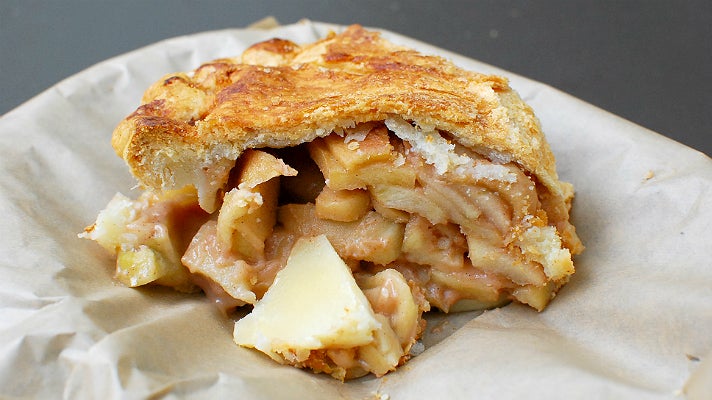 Mickey Petralia's outdoor café near Griffith Park trailheads offers visitors painted picnic tables, trees strung with colorful lights, a circle of hay bale seating, and musical accompaniment in the form of chirping birds. The hefty slab of apple pie has a butter-based crust and slices of sweet tart fruits sprinked with cinnamon. The Trails also typically makes a vegan pie, either strawberry rhubarb or mixed berry.
Valerie at Grand Central Market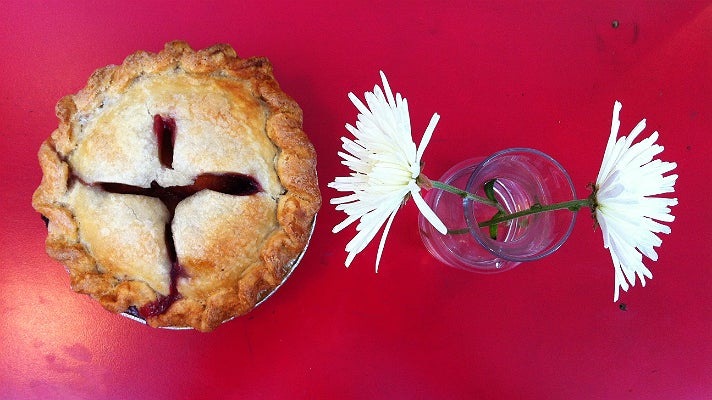 Valerie Gordon and Stan Weightman built on the success of their grab-and-go chocolate and confection house near Silver Lake by opening this breakfast, lunch and bakery counter inside downtown's Grand Central Market. Gordon crafts dough with a cream cheese base for savory hand pies, which might include bacon & potato. Sweet pie dough is flaky, buttery, and lightly sweetened, and cradles highly seasonal ingredients. During our visit, they sold sweet tart peach blackberry mini pies, plus fruited hand pies.