The Best Oyster Happy Hours in Los Angeles
April 12, 2014
Updated on August 5, 2015
Los Angeles is now lined with oyster bars like they were palm trees, and restaurants are shipping in oysters from sea to shining sea. Angelenos have an oyster bar or restaurant serving oysters in nearly every neighborhood, with condiments, beverages, and menus catering to the local flavor. Aside from the sensation of privilege that an oyster happy hour bestows, it's a titillating first taste - the ultimate culinary foreplay when getting to know a restaurant. Here are 8 of the best oyster happy hours in the greater Los Angeles area.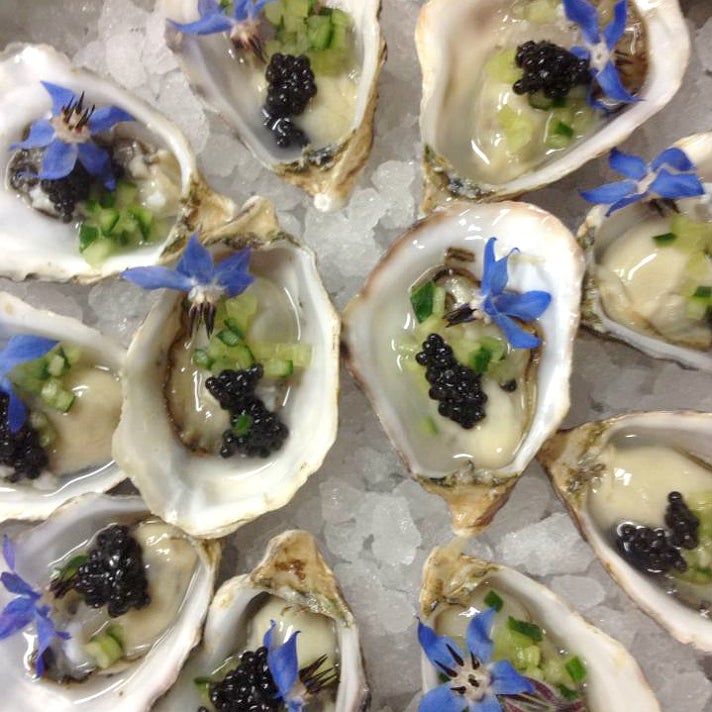 If ordering a dozen oysters before you even hit your seat doesn't make you feel like a rock star, then doing it here at West Hollywood's legendary hotel and bar should suffice. Every third Thursday of the month, Bar Marmont features Oysters at Cost, which range from $1.25 to around $1.50 representing a taste of both coasts, and the luxury of two to three different oysters. Each month is centered on a food-cocktail theme, such as spring peas for Spring, and carrots for Easter. The Chateau is one of L.A.'s great escapes to a secluded vision of old Hollywood glamour and lore, and on Oysters at Cost night the price of high living might have you thinking it's 1929 all over again.
As summer approaches, the Downtown location of this Euro-Asian restaurant is one the best places to unwind after work for local businessmen. No need to rush if you're coming from across town, because here it's $1 oysters all night from Monday through Friday. The $1 oysters are also available at the Chaya locations in Venice and Beverly Hills from 5 p.m. to 7 p.m., Monday through Friday. Pacific oysters with strong brine from the Pacific Northwest are plated with a simple cocktail sauce and lemon wedges - an ice cold Kirin Ichiban keeps with the theme. The oysters can be enjoyed at the boisterous bar, the patio, lounge, or at the sushi bar if you prefer a more intimate setting.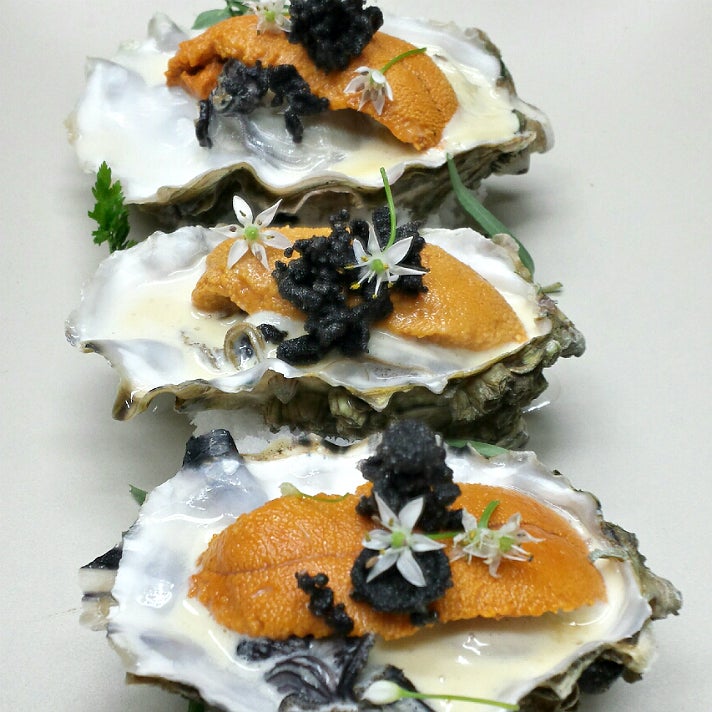 One of L.A.'s best urban al fresco dining spots received a local and seasonal lift when Chef Vartan Abgaryan took over Cliff's Edge at the close of 2012, bringing the freshest ingredients translated through global flavors. Thursday night is oyster night. From 6:00 p.m. to 7:00 p.m. there are two to three choices of the best oysters Abgaryan can get that day for a $1 each - from 7:00 p.m. on they are just $2. There are drink specials during the oyster hour, but plan on that being your appetizer as you'll be wise to stay for a romantic dinner and some of the best vegetable dishes in town.
Every neighborhood in Los Angeles seems to have its own oyster bar these days, with a menu reflecting the local flavor, like this seafood and raw bar from the people behind Wokcano and Le Ka. A young, hip Koreatown crowd can be found every day from 4:00-7:00 p.m. devouring Eastern oysters by the dozen provided an extra kick from a spicy mignonette and cocktail sauce topped with wasabi paste. Want some more? If you make it to 10:00 p.m., the late night happy hour kicks in with $1.25 oysters, and the night's just getting started - this is K-town, after all.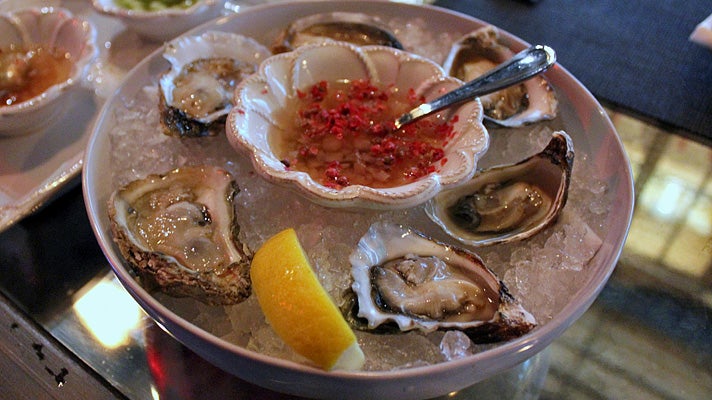 It's only been a week since this Roaring 20's-meets-the-21st-century space on the ground floor of the WaterMarke Tower opened, and oyster happy hour is underway. You'll want to stick around after for the restaurant's globally influenced California rustic cuisine in an elegant setting that's still approachable. Get there early for the $1 oysters and $8 cocktails during the Golden Hour - it's available at the bar and the adjoining lounge where you can enjoy a rotating menu of three oyster selections served with a trio of mignonettes. Flapper dresses and Oxford Bags are optional.
the hungry cat - hollywood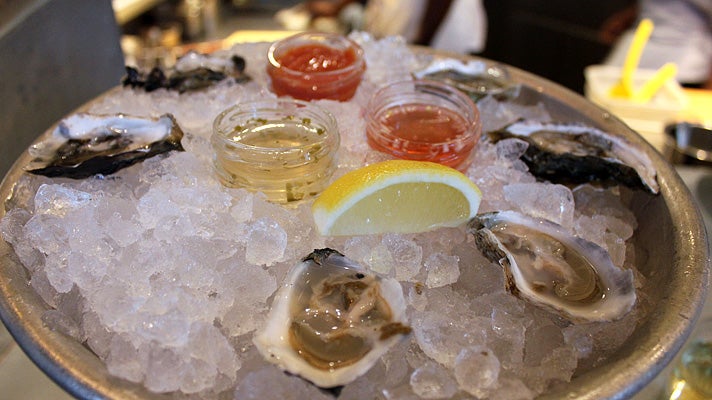 For almost a decade, chef David Lentz has made Hollywood a seafood Mecca here in Southern California with the highest quality products and flavorful menu items that riff on seafood classics with a contemporary California sensibility. If you're thinking that this might be the best place for oysters on the cheap, you are correct. On Monday nights, a trio of oysters like Marin Gems (CA), Shigokus (WA), and Chunus (VA) are on the board to throw back, complemented with a crisp, dry Picpoul de Pinet. This is the cure for your Monday blues.
The only thing missing are the sing-a-longs at Los Feliz's own summer camp away from home. MessHall Kitchen serves well-crafted cocktails, uptown burgers, and sandwiches by Chef Keith Silverton in the former Brown Derby space, where Swingers and Royal Crown Revue once shined for a brief moment in time. Tuesday is oyster night for $1 James River (WA) oysters and hoppy $5 drafts of craft beers all night long. It gets packed here on Tuesdays, where you'll get a feel for this neighborhood spot that has nightly special events including Throwback Thursdays for affordable, classic cocktails.
Chef Daniel Salcido is one of the chefs based in Whittier that's turning former president Nixon's sleepy hometown into a destination for creative Latin cuisine. Salcido's restaurant is first and foremost an oyster bar, where you can get $1.50 oysters from 5:00 p.m. to 7:00 p.m. every day. Happy hour diners can indulge in the oyster selection of the day like Dark Beach (WA) or Naked Cowboys (NY) paired with $2 off beers on tap like Telegraph' s California Ale, or a refreshing muscadet from the Loire. This is the place to go on the East Side and worth a trek across town for delicious oysters before exploring pork belly tacos and Mexican street-style corn with crab.