The Best Donuts in Los Angeles
June 6, 2013
Updated on February 1, 2017
L.A. is the U.S. city with the most donut shops, meaning it can be tricky to sift through the river of deep-fried rings. Clearly, Angelenos have displayed serious commitment to doughnuts (aka donuts), which originated in the 19th Century. Cake Monkey Bakery and Donut Snob also wholesale great donuts to different coffeehouses, but we're more focused on a baker's dozen of L.A. places where you can find destination donuts on a regular basis.
Jason Harley, who previously helmed Mabel's Chicken & Waffles in the same DTLA space, reemerged with an even more proven combo to start 2016: fried chicken and donuts. Birdies promise "crumbly and buttery" cake donuts and "golden brown and delicious" yeast donuts, along with "unique glazes, fillings and toppings." Lemon thyme pistachio, strawberry white chocolate, and candied maple bacon fills just three trays that grace the counter. Harley also makes a blinged out donut coated with 24K gold leaf.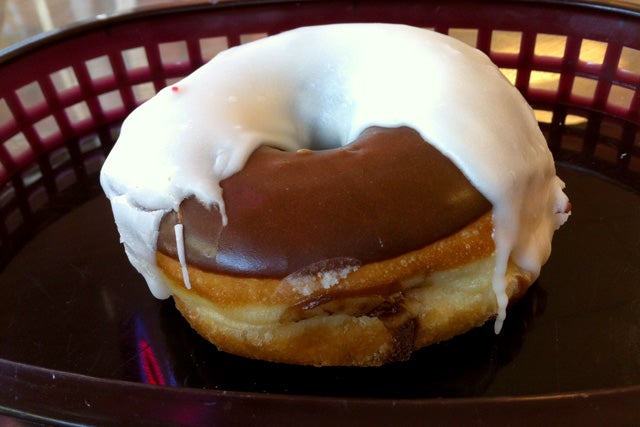 Keep a close eye on Blinkie's classic donuts. They've been known to sell out just past noon on weekends at this Woodland Hills strip mall. The display case holds airy raised and glazed donuts, crusty old-fashioned rings that look like blown truck tires (but taste much better). They even have a raised donut that riffs on the black-and-white cookie, with overlapping layers of chocolate and vanilla frosting.
Blue Star, the Portland import from Katie Poppe and Micah Camden, has branches in Japan and debuted on Venice's fashionable Abbot Kinney Boulevard in 2015. The airy space features white walls, skylights, an open kitchen, and a blackboard that describes "Quality Over Quantity." Donuts are crafted with French-style brioche dough crafted with sustainable Shepherd's Grain bread flour, cage free eggs, whole hormone-free milk and European-style butter. Rings fry in rice bran oil, and staffers make and apply glazes and fillings throughout the day. Firmness levels vary, and some of the more creative flavor combinations include passion fruit cocoa nib, lemon poppy buttermilk, and blueberry bourbon basil. They also have a hard apple cider fritter with caramelized fruit.
The Church Key, a Sunset Strip restaurant from chef Steven Fretz and front of house partner Joseph Sabato, has flair to spare. The space features white hexagon tile floors, fireplace topped with rainbow heart, and cart service with Pan Am style stewardesses. Pastry chef Ian Opina makes deluxe brioche donuts that are served hot with brown butter glaze, oozing cinnamon caramel, and a salty chocolate shake sidecar.
Restaurateur David Reiss and chef Jason Travi transformed a boxy grey space on a Hollywood side street into a hub for New England-inspired comfort food. Sure, smoked meat poutine and lobster rolls are rewarding, but save room for Miho Travi's apple cider donuts. Crisp-crusted sugar lined rings plated with a streak of apple butter and a ramekin of savory salted caramel.
Drive Like Jehu drummer and Blink-182 producer Mark Trombino debuted Donut Friend in rapidly changing Highland Park in 2013. He stayed true to his rock roots by featuring a cartoon mural of bears playing a donut guitar and drum kit. He also riffed on bands when naming signature donuts, called "favorite compilations." Fudgegazi is a play on hardcore band Fugazi that involves a sliced chocolate donut stuffed with chocolate cream and graced with chocolate shavings. Coconut of Conformity refers to heavy metal band Corrosion of Conformity and features a donut stuffed with coconut cream that's topped with vanilla glaze, toasted coconut, and lime zest. You can also D.I.Y. with dozens of sauces, sugars, spices, toppings, creams, butters, fresh fruit or gourmet cheese.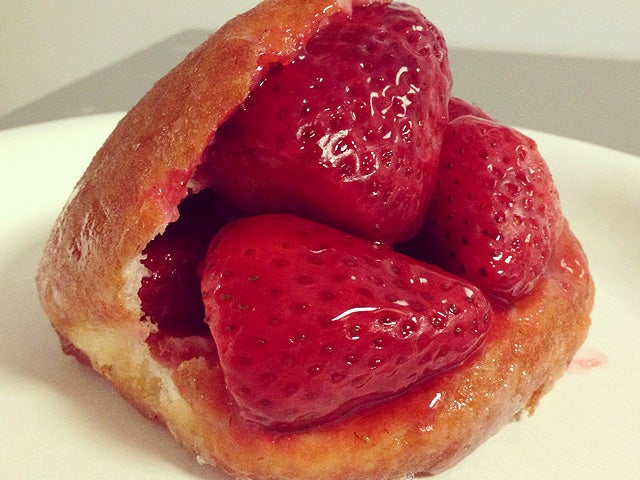 This 24/7 donut destination from Jim Nakano and wife Miyako might reside along vintage Route 66, but his strawberry or peach stuffed donuts are still state of the art. When they're in season, people flock to Glendora to score hole-free glazed donuts packed with more than a quarter-pound of fresh fruit. At other times, regulars can still make due with deluxe tiger tails, maple bars, and donuts decorated with fresh strawberry jam.
This Mid-City shop devoted to Ice Cream, Doughnuts, and Coffee sprouted from the Wednesday night Doughnut Shoppe at adjacent BLD. Pastry chef Mariah Swan and Amy Knoll Fraser now deliver donuts to a small, colorful, well-striped environment. Sidle up to the counter for "simple" and supple options like salt & pepper caramel, pecan maple, and buttermilk brown butter. Get "fancy" with filled donuts like peanut butter and jelly or vanilla cream cheese. Top a bacon pretzel donut with a scoop of coffee and donuts ice cream and a double shot of espresso to form the signature affogato-like ICDC dessert.
Kettle Glazed is a classic donut shop that debuted in a strip mall by the 101 back in 2013. Sami Anz's modern glass-fronted space features pastel green tiles, wood panels, and black tables with orange stools. The case houses trendy cronuts and cruffins, plus more traditional raised donuts like vanilla bean and glazed chocolate with crushed peanuts. Fun filled flavors include lemon curd, PB&J, and S'mores, which is plugged with marshmallow and plumed with Graham crackers.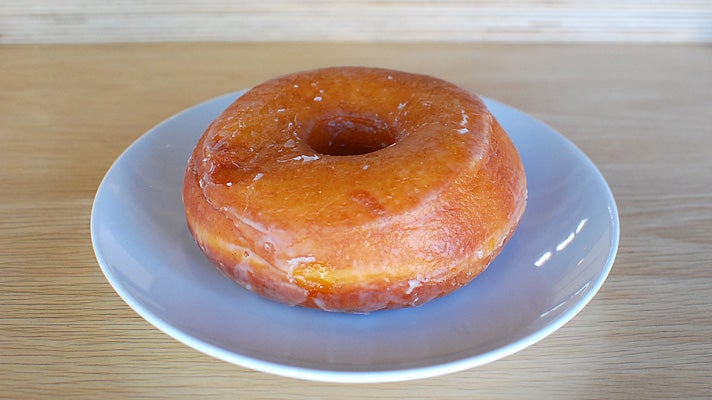 The fourth culinary establishment from pastry chef Zoe Nathan and her restaurateur husband Josh Loeb incorporates the name of their son and features plenty of tantalizing baked goods on their countertop. Milo & Olive's Old Fashioned Glazed Doughnut is a substantial ring with a glaze that touts light vanilla flecking. The texture has good bounce without veering into chewy territory.
Republique, the Cal-French brasserie from Walter Manzke and pastry chef/wife Margarita Manzke, may be the most versatile restaurant in the city. By night, they serve impressive seasonal plates in a space that could double as a culinary church. By day, Margarita fills a pastry case that stretches from the front door to the register. Donuts are always a part of her repertoire. Bombolini, Italian donut balls, come in flames like crème brulee with custard, banana salted caramel, filled with jam, or coated in simple sugar. More recognizable raised donuts are glazed in coats of sweet honey vanilla or citrus with Meyer lemon, orange and grapefruit.
Sidecar Doughnuts & Coffee – Santa Monica
Sidecar Doughnuts is a Costa Mesa sensation from chef Brooke Desprez and business partners Chi-lin Pendergrast and husband Sumter. In 2015, they expanded their seasonal, market-driven vision to Santa Monica, pairing Stumptown coffee bar with wildly imaginative doughnuts. Modern classics include huckleberry cake donuts, butter and salt cake donuts, and buttermilk nutmeg drops dipped in vanilla bean glaze. Adherents also look forward to monthly flavors. For instance, April brought strawberry buttermilk and Suzette, a play on crepes Suzette with Grand Marnier & orange glaze, Cara Cara orange compote, house whipped cream, and a drizzle of Grand Marnier/OJ sauce.
Step inside The Sycamore Kitchen at your peril. This industrial chic café on a fashionable stretch of La Brea Avenue greets customers with a counter that's practically overflowing with tempting baked goods. Chef/co-owner Karen Hatfield is the responsible party. She usually showcases pillowy raised donuts on a pedestal, which is where they belong. Flavors might include chocolate glazed, brown butter coconut, or rosemary caramel. The latter straddles the line between sweet and savory with cascading glaze, a sprinkle of sea salt and aromatic herbs.